Your perception of your role as a First Officer, or Second Officer may be asked. As a F.O you are there to support the Captain to ensure that procedures are followed to ensure a safe outcome to the flight. The departure and arrivals portion of a flight can be very demanding, with late changes of runway, nearby traffic, difficult weather conditions and the like. The environment in which airliners operate is a fast moving one, that truly demands a second person on the flight deck to cope. Coping with such an environment requires spatial orientation, quick mental skills, and demands that you are organized – just ask any single pilot IFR pilot. A disorganized F.O is a liability, not an asset to a Captain, and erodes flight safety.
Airlines that use wide-body aircraft often recruit Second Officers (S.O's). In such a position you are their to learn from other crew members, and support them in the cockpit. Being an S.O gives you the opportunity to observe operations with the added benefit of being able to watch and participate in crew interaction without being under quite as much pressure as the Captain and F.O. Your time as an S.O allows you to become familiar with the airspace and airports you will be flying through as an F.O or Captain one day. It also allows you to question more experienced crew members about technical or procedural facets as they arise, thus expanding your knowledge and command sense.
Airlines often need S.O's to allow long-haul operations to be flown due to flight and duty limitations imposed on them. Quite simply, it is good financial sense to employ a S.O to meet the required crew compliment , rather than roster another Captain or F.O – they could have been using their time more profitably, flying another company aircraft somewhere else in the airlines route system.
This may be tested in two ways. One way is verbally, by perhaps quoting a position on earth, then giving you a direction, a flight time, and a speed, then ask you to identify the new position. For example " You fly south from London at 300 kt. If London is located at latitude N50 degrees, which parallel of latitude would you be on after 5 hours flying ?". In this case you need to know two things …
1. Each degree of latitude equals 60 nm
2. At 300 kt, you are covering 5 degrees of latitude per hour.
So 5 hours flying at 5 degrees latitude per hour = 25 degrees. After flying south for 5 hours you will be at latitude N25.
Most countries today contain more than one culture or religion, so it is highly likely that you will encounter other company personnel that have a different background and upbringing than you experienced. If you are to be flying internationally, then you will need to interact with different cultures and religions for certain. Either way, this demands sensitivity and understanding, and diplomacy on your part if you are to get the job done successfully. Airlines recognize this and will need to be sure that you have these coping skills and are aware of the challenges.
You need to be tactful but honest here. Ask yourself this question before the interview panel do, and summarize your responses. As food for thought, perhaps the airline flies domestically, and involves no overnight stays away from base. This may suit you if you have dependent children.
If the airline is a commuter level operator, and you are a little senior in years for consideration by the major carriers, you could highlight this to the panel, but with the explanation that you prefer to stay with one operator, and progress in seniority. Commuter airlines often prefer older crew, as there is little chance of them being recruited (poached) by major airlines, and they are therefore more "stable' employees. Airlines go to a lot of trouble to train you, and to lose you to another operator after only a couple of years of financial return on your training, is not a good scenario for them.
Most international operations involve larger and faster aircraft. If flying the biggest is your preference, then you could underline this as your goal. Airlines like goal oriented people, with a preference for advancement, and achievement.
It would be advantageous to mention that you appreciate airlines with a safe history, as this speaks volumes about their adherence to standards. Good working relations and conditions within the company attract you also.
You have probably applied to other airlines, so be up-front about it. If there are particular aspects of working for the company interviewing you, then highlight these. These could be such things as greater job security, promotion opportunities, better bases, improved airline standards and the like. Another company may offer some advantages to you, but when taken on-balance this company would likely fit you better, and you have this company as your first priority.
The interviewing panel may have interviewed hundreds of pilots in recent years, and probably a number already earlier in the day, so it important to stand out in a positive way when asked this question.
All pilots have been assessed as capable of flying a plane safely, or they would not hold a licence, or be getting an interview, so leave out that you are "the ace of the base". You are best to point out that being a successful and valued employee takes more than just flying skill. If you have an affinity to meeting people, and working in a group environment, say so. An example may be your work in Rotary, or some other service group, or charity.
Perhaps point out that you are the type of person that is prepared to go the extra mile to get the job done efficiently, and safely. That you consider it your job to, and take pride in, identifying a potential problem situation, and correct it before it multiplies, and gets out of hand.
You need to give the interview panel confidence in your long-term commitment to the company, and stating that you recognize that employment means that initially at least you are a small, but vital cog in a large and complex corporate machine.
Pay rates/company bases – do you know them ?
Ensure that you find out the rates of pay, and the conditions under which you will be working. Employment with most airlines means you and your immediate family get reduced airfares when on holiday. This may extend to hotel accommodation also. Getting this information may be difficult. The airlines Human Resources department could likely furnish this with you, or a friend that is already in the airline. Some airlines have pilots working under contracts, and these may vary from pilot to pilot.
Who do you know in this company ?
Most airlines wish to get a first-hand account from at least one of their present flight crew that knows you, and your flying standards well. Many airlines are as interested in how you relate to other people, as they are in your professional ability and knowledge. They can not afford the luxury of employing pilots who can not interact well with their other employees, or those of other companies.
The most vital Element in Safe Airline Operations
You may get asked this question. There is no doubt that the adoption of, and adherence to Standard Operating Procedures (SOP's) is the singular most important asset we have. Imagine the number of accidents we would have if standard radio terminology, Standard Approach and Departure procedures, or a standard international aviation language (English) did not exist. Add to this the disaster potential if the company had no standard checklists, no standard procedure for aircraft evacuation, or procedures for in-flight emergencies or non-normal conditions. Standard procedures, correctly applied are the vital aspect under-pinning safe airline operations, and those of other industries that interact with it, such as those of re-fueling companies, and freight forwarders.
CRM what do you think of it. What is it/meant to achieve ?
It means Crew Resource Management (not Cockpit Resource Management), and it is vital. The implication being that you are part of a large team of individuals that interact to produce a safe, reliable, and profitable outcome. All crew must be aware that getting on in the cockpit is important to safety, and there is no room for belligerent Captains or non-assertive First Officers. There are more people to interface with when on the ground, and this is where human resource management skills are often most tested.
Interpreting Data Presented to you at Interview
Some airlines will test your knowledge of charts, or approach and departure plates. Obviously you should brush up your understanding of these before an interview. If asked the most vital piece of information on an approach or departure plate, or chart, identify the validity date. If this is not the current procedure, then the correctness of all other numbers is compromised. If there is something you do not know about, say so.
Company route structure, past present
Know the routes and type of business that the company started operations over. For instance, many large passenger airlines started off as suppliers of air freight or postal carriage services. Also know who founded the company, and something about them and their dream.
Make sure that you can identify any aircraft in their current and previous fleet, and which routes certain aircraft operate, and why. The company may operate small jet or turboprop aircraft, in addition to large wide-body aircraft such as the B747. Each aircraft was purchased for a particular purpose, so understand the economies of aircraft size compared to journey length, airport runways used, and passenger/ freight loads. Most of this information is available through the company web site, so make sure you spend some time in there.
Perhaps mention the current sophistication of the passenger and freight online booking service – most large airlines have one now.
Company Incidents/Accidents. Your know of them, and opinion ?
Do not mention accidents the company may have had, unless you are specifically asked about them. Okay you need to be knowledgeable and diplomatic here. Research what accidents, or incidents the company has had, and know the accident report (s) well. These can be found through such web-sites as:
Be a bit careful not to lay ultimate blame in one area only, and highlight that accidents and incidents normally occur due to string of circumstances that may appear unrelated, or may be unappreciated at the time. Hindsight is 20/20. Perhaps highlight the fact that occurrences must be factored by the size of the airlines operation to get true picture.
Have you ever broken Air Regulations ?
Believe it or not, there are occasions when you can breach air regulations, but these are confined to emergency situations, and you better have a good reason for doing so. An emergency can present itself to you on the ground or in flight, despite that fact that you did everything by the book. An example here being that you carried the minimum amount of fuel required for the flight, but when you were on long finals, the aircraft landing ahead of you becomes disabled on the runway. There is no way you could have foreseen this. You may now burn into your fixed reserve to divert to another airport, or hold. If this is not possible you may elect to land on the best nearby airfield, even though it is not legally certified for operations by your aircraft.
Unless you have been extremely fortunate, you have probably breached regulations, if only marginally at some point in your career, without being aware of it. An example being that when VFR, you must maintain a certain minimum vertical and horizontal distance from cloud. Evaluating proximity to cloud is an imprecise science, so it is quite possible you inadvertently strayed closer to one than the regulations would allow.
Flight Test in a Simulator, or Aircraft
Almost all airlines that are employing qualified pilots, rather than cadets, will expect you to demonstrate your flying ability in a simulator. This will possibly be an aircraft you have never flown before, and it may be considerably bigger than you have experienced. The captain that assesses you, will first give you a 20-30 brief of the control and instrument positions, and what they are looking for from you. They will not expect you to be an expert, but they will be looking for you to speak up and ask questions, and anticipate what is going to happen next and be ahead of the aircraft.
When you become seated in the aircraft or simulator, be sure and ask how to adjust your seat to the correct position, so that both pilots are viewing the outside world the same as each other. A difference in seat height can have one pilot feeling the aircraft is too high, while the other pilot thinks the aircraft is on slope.
Try not to grip the controls too firmly, as this reduces your ability to make fine adjustments in pitch or roll.
If you are new to a jet transport cockpit, appreciate that you do not co-ordinate turns with rudder, as the yaw damper will do this for you. So feet off rudders when in flight.
Keep a check of the progress of the flight in relation to where you departed, by reference to the instruments, especially the RMI and DME. A popular check of your spatial orientation is to fly you this way and that for some time, then ask you describe where the departure airport is from your current position. Do not look out the window – it is likely behind you. Just use the RMI and DME to describe your bearing and distance to or from the airport as appropriate.
Ask for the pitch attitudes to use for initial climb, cruise, descent and approach, and fly them using the artificial horizon as your primary instrument. Remember to lead the aircraft when leveling out to avoid passing through your assigned level. The same goes for turns onto headings, especially in very heavy transport aircraft.
If you have the opportunity, get some appreciation of the aircraft through PC based simulators. There are some very good simulations out there, at reasonable cost. One I find to be excellent is the Aerowinx B747-400 PC simulation. It accurately depicts the real aircraft displays and performance. Information on this program can be found at www.aerowinx.com It is also good for getting ready for your endorsement and line training, especially if you are transferring to an aircraft with EFIS, and flight management systems (FMS).
Get as much technical data from the Internet on the aircraft you are likely to be flight tested on at interview. There are some excellent sites. Two that spring to mind are:
B737 Technical Training Site: http://www.b737.org.uk/
Jerome Meriweather's Flight Deck Simulation Home Page
http://www.meriweather.com/homepage/sitepage.html
Have you any questions for the panel ?
Prior to the interview, mentally jot down 3 or 4 questions you have for the panel. Things that may interest you are :
· When and how can I expect to hear the results of the job application.
· Through which channels did the individual members get to their current positions within the company. Specifically, where were they based, which aircraft did they fly, and what do they feel are the biggest positives and negatives of their employment.
· What advice would they give to you if you were unsuccessful in your initial application to the airline.
· Given their life experiences, what do they think the primary attributes are of an airline pilot. Hopefully they will mention a number of the attributes you have displayed to them.
I hope the issues raised in this editorial, assists you in your airline interview.
NEW PRODUCT RELEASE
This week saw the release of my new ATPL reference book addressing the CASA ATPL Performance & Loading syllabus. It contains 180 pages, and is focused on presenting the concise information and calculation techniques required by candidates to pass the CASA exam. It sells for less than $70.00, and is available from most pilot supply shops around Australia. It can be bought directly from the online pilot supply shop, by clicking here. Product code is Av15. For more information on this new product click here.
PC FLIGHT SIMULATOR COLOUR SCHEMES WEB-PAGE
Garry Smith has a very interesting website dedicated to providing realistic colour schemes for Microsoft 2000 flight simulator. His web page is at www.gjsmith.net
FINAL FLIGHT
On Monday the 9th of June 2003, our industry lost a fellow pilot to cancer. First Officer Ivan Luketic flew Mig 21 fighters for the former Yugoslav airforce, then moved into civil aviation, flying Antonov, ATR 42, and finally Airbus A320 types, with Croatian Airlines, and Gulf Air. He was a dedicated professional, and is fondly remembered by all who had the pleasure of meeting and knowing him, including myself. He is already sorely missed.
"We very few – we band of brothers"
Best wishes
Rob Avery
Author/ATPL Lecturer
Western Australia
Note: The editorial above is the opinion only of the author, at the time of writing. It is entirely generic, and does NOT reflect the views or policies of any specific airline.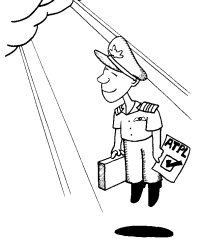 Marty says ... "Goodbye to GA".