Attitude
As with any job, potential airline employers are looking for a good work ethic, and positive go-get-it attitude. The interview panel will have formed an impression of you within the first 5 minutes of the interview beginning, so you have to make a positive impression within this time. Your attitude is reflected in your body language, and interview personnel are trained to recognize this, through things such as posture. They will expect you to be a little nervous, but not overly so.
Training
All applicants will meet the minimum required aeronautical experience and some will exceed it. Your career highlights during your training phase will be studied to check that you have a reasonably linear progression. That is to say, there were no large time gaps between say getting your CPL, and getting either an instructor rating or an instrument rating, then a speedy progression on to tackling your ATPL theory.
Airlines are very interested in how easy your are to train. They can ill afford to take on slow learners, or those that are smart but un-motivated. Psychometric testing will generally identify those un-motivated types, and this would likely be reinforced by those with a history of "dropping-the-ball", as to progression to the next learning phase.
First Officers
Airlines are looking for future Captains, not permanent First Officers, hence the care taken to assess your previous learning regime. This is largely why there is a large emphasis for new hires to at least have their ATPL frozen credit, as they need F.O's that can rise to Captain when required. This can not be done without holding an ATPL licence.
There have been situations where pilot's that were hired without ATPL frozen credits, have been unable to move up to Captain from senior F.O's. This means that another pilot with an ATPL will move up the rankings ahead of you. In the 1970's, the lack of senior F.O's with ATP licences severely affected a major Australian airline, and overseas Captains were hired to fill the gap. This caused a lot of interpersonal disputes in the cockpit, as the overseas captains took the F.O's seniority positions, and blocked their career progression for many years.
Standard of Dress
Always where a tie, and a smart suit, even if you have to hire one for a day or two. If you are concerned about dressing correctly, ask the suit hire company to provide you a shirt and a tie to match.
Personal Hygiene
This tells potential employers of your emphasis on health. Having long or dirty finger nails is an absolute no-no. The state of your teeth will come in for scrutiny during the medical inspection. Lot's of fillings may denote a lack of dental care, and this raise questions on wider health and fitness issues. Remember that airlines can not afford to train someone, then lose them in a few years time because of poor health.
Make sure you clean out your ears with cotton buds before a medical inspection, and if you have a bloodshot eye, use eye drops to remedy the situation.
Technical Interview/Tests
You will likely be questioned orally, and through paper based knowledge tests. As you will hold either the ATPL frozen credit or the ATP licence, you will be expected to be able to answer most of the technical questions put to you. Often the written technical knowledge test is before the oral version in front of the panel. They will likely have looked at your written exam score before the oral begins.
If you do not know the answer to the question, just say so. Do not rave on trying to score points where none exist. You will only paint yourself into a corner.
You may have purchased a book that gives you the "heads-up" about the technical questions that a particular airline may ask. Do more than just learn the answers off by heart, as the interviewer may ask you to expand on the subject to prove your all -round knowledge. Giving the panel an answer that you can not back up is probably worse than being unable to answer the question in the first place.
If you get a second interview, be sure to research any technical question you did not know the answer to at the first interview. The interview panel will likely ask you the same questions you failed on the first time, to see if you are interested in correcting your knowledge deficiencies. Doing so speaks volumes to them about your willingness to learn.
Getting along in the Cockpit
You will spend long hours flying in a cockpit area that's often little bigger than most toilet cubicles. The panel need to know that you can get on with people, and relate to various worldly topics. The last thing a senior captain needs in their cockpit is an F.O that can only talk flying. In an interview, your total big-picture knowledge of the world will be assessed, not just our aviation knowledge.
The questions will be pretty simple ones, such as what is the capital of the United States of America (do not answer New York), or in which continent and hemisphere is Morocco situated.
A second editorial, soon to be released, will focus more on airline interviews. You will be advised by email when this is online. Until then, stay safe, and best wishes for 2003.
Rob Avery
Author/ATPL Lecturer
Western Australia
Note: The editorial above is the opinion only of the author, at the time of writing. It is entirely generic, and does NOT reflect the views or policies of any specific airline.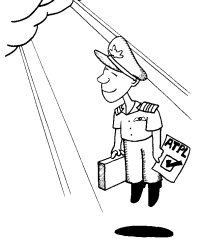 Marty says ... "Goodbye to GA".