Performance & Navigation Topic 6.
GPS Position Dilution of Precision
This is a geometric effect resulting from satellites being too close to each other. The position accuracy is degraded in a similar fashion to that when position lines from ground based navaids is less than 45 degrees.

The neat line often portrayed as the distance arc from the satellite is actually a little fuzzy, so that when the angle between satellites is narrow, the diamond shaped area within which the receiver lies is greater than for that received when the satellites are well spaced.

Position Dilution of Precision is abbreviated "PDOP".

ICAO states that a PDOP of less than six is required for en-route navigation, with a PDOP of three or less required for non-precision approaches (ie: NOT ILS type). The GPS stated accuracy of 100 metres 95% of the time, assumes a PDOP of 3, and a range error of 33.3 meters. Range errors are multiplied by the PDOP to obtain stated accuracies.

Refer fig's GPS 9a, 9b, 9c and 9d.


Fig GPS 9a. Low PDOP means small position error.

Fig GPS 9b. Low PDOP means small position error.

PDOP affects both horizontal and vertical position accuracy, though vertical position suffers approximately one and a half times more inaccuracies than does the horizontal.

Fig GPS 9c. High PDOP means large position error




Fig GPS 9d. High PDOP means large position error.
These texts form part of the ATPL navigation course produced by Rob Avery. It is presently available as a self study course in paper version, but will soon be available via the internet or CD ROM, anywhere in the world. It is focussed on the knowledge required to pass the CASA ATPL examination. The course includes assignments with answers provided, and a set of 4 practice examinations to get you exam ready. Cost will be a very affordable $250.00, and it will be available from the Aviationshop online store.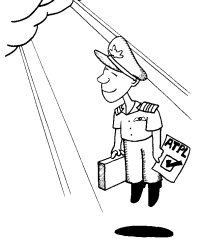 Marty says ... "Goodbye to GA".